I need your help.
Amazon is refusing to stock my new book (provides shipping times of 1-2 months and has been refunding people's money) since they view that there is no demand. The only thing I can think of is that they are trying to get me to use their print-on-demand service instead of the one I have chosen.
What I need is for you to send a Tweet on
Twitter
to their Help:
@amazonhelp is there any way to get Boston Cocktails: Drunk & Told faster than 1-2 months?
https://www.amazon.com/Boston-Cocktails-Frederic-Robert-Yarm/dp/0988281813/
That is all, my friends.
In the meantime, please order the book through
Barnes & Noble
or through
The Boston Shaker
store (online or in person in Davis Square, Somerville, MA).
Thank you.
Regards, Fred
Update 4/29/17: Even partial success is success.
Thanks for all your help! Over 20 people stepped up and generously gave their time, and I feel blessed by the response.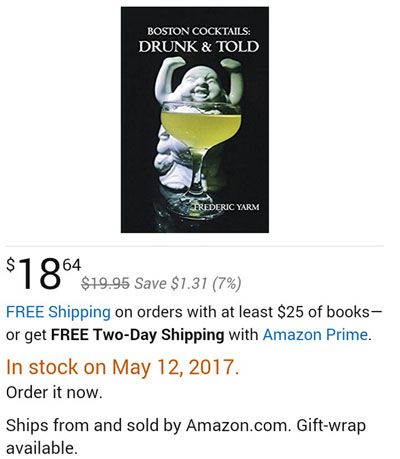 May 12th is now under 2 weeks away!