1/2 oz Angostura Bitters
1/2 oz Demerara Simple Syrup
3/4 oz Rothman & Winter Orchard Apricot Liqueur
1 3/4 oz Rittenhouse Rye
Stir with ice and strain into a cocktail glass.
For my second cocktail at Drink, I wanted John Gertsen to make me the cocktail he had just made for our friend Tyrone who was to our right. Tyrone requested a
Copenhagen
-like drink;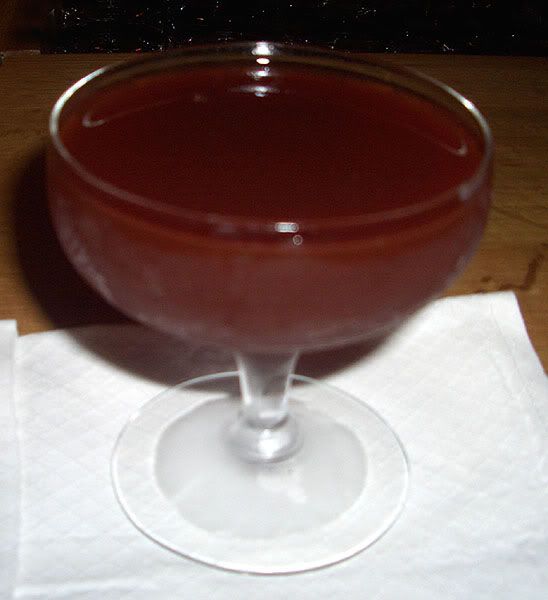 however, since Drink does not have a bottle Gamel Dansk bitter liqueur, John made him their flavor-approximation substitution. It was a drink that he had been working on with Ben Sandrof that, like the Don's Little Bitter and the
Trinidad Sour
, had an extreme amount of "non-potable" bitters in them (and once again proved that Angostura and others can indeed be "potable" bitters). The drink was a lot spicier from the rye than the Trinidad Sour was but had the same delicious cherry flavor from the cherry wood in the Angostura bitters. This cherry note went rather well with the apricot liqueur, and the slug of Angostura seemed to be serve an analogous role to the Gamel Dansk in the Copenhagen. John did not have an idea for the name and wanted some suggestions. I started thinking about Denmark and wondered about some sort of Hamlet connection. The best I can come up with now is the Helsingør (a/k/a Elsinore in English) which is the city in Denmark where Hamlet was set. Perhaps John and Ben will approve. The proportions of the drink have not been finalized yet, so the recipe above may only represents the ones John was making last night.